You know how it is: you wait ages for an interesting statue, and then two come along at once…
I've recent been reading Jeremy Paxman's fascinating volume on "The Victorians". Having long been fascinated by the Great Exhibition of 1851, I was curious to find this little paragraph, describing an item that hadn't featured in the previous books I've devoured on the subject, namely:
a presentation of the American sculpture Hiram Powers' Greek Slave* (1844), [which] caused a sensation. The sculpture… depicts a Greek maiden who has been captured by the Turks and forced to stand naked in a slave market. The statue was secreted in a curtained alcove but placed on a stand that could be rotated discreetly by gentlemen in order to reveal her delightful posterior.
The web is a wonderful thing, for as well as Wikipedia's tantalising description ("the title suggests that she is some sort of captive, and is on display for sale as a sexual object in an unknown market"), there's an illustration of the sculpture in the Crystal Palace itself: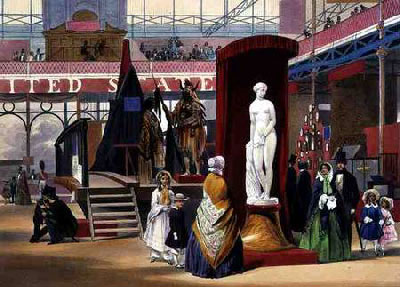 This surely demands a closer look, so let's peek behind the curtain of Victorian discretion: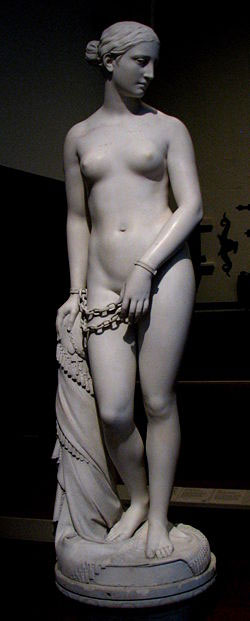 And now let us reach for that legendary rotating stand: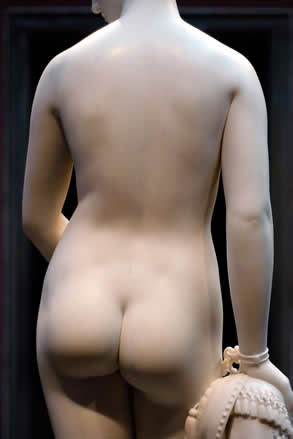 Oh yes. Oh very yes. As one academic essay comments, "The treatment of the back especially, is one of the happiest efforts in modern sculpture."
Apparently the original work lives in Raby Castle – not very far from where Haron and I lived for seven years – although there are copies dotted all across the States. I think we need to take a trip back up north, and contemplate how the young lady might have been punished by her new master… or in the harem, even.
One further online reference to the sculpture lists it with a number of other artworks classified as "Women as helpless, chained (and usually naked) victims". This is a genre that, I feel, deserves further investigation…
*I typed that as 'Geek Slave' the first time around. That sounds intriguing, too!