See, I've written nigh on two thousand posts here, and scrolling through to find my favourites is tough. Similarly, anyone coming afresh to the blog would struggle to find its best content without a laborious trawl.
So it feels like time for this: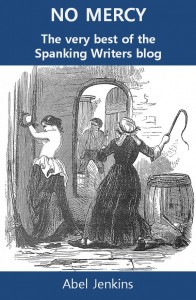 Click HERE to download the free eBook in PDF format – three hundred or so pages, with the posts I've most enjoyed writing here on the blog. Consider it a belated Christmas present – and have fun reading.
The book's sorted by theme. There's a chapter of school-related posts; one about maids in country houses; another for girls in reformatories and prisons. There's a collection of my favourite scene accounts. And there's a chapter I particularly like just called 'Bad Men'. Hopefully, you'll find something to enjoy.
Do let me know your favourite entries, and feel free to pass on the full link to the book to any friends or social media followers:
http://www.spankingwriters.com/blog/wp-content/uploads/2014/12/No-Mercy-the-very-best-of-the-Spanking-Writers-blog-Abel-Jenkins.pdf
(And if you're in voracious reading mode, a reminder that my collection of short stories – "The Punishment List" – is also still available here for you to download free!)