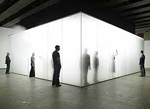 Have you heard of the new Antony Gormley exhibition in London?
At the centre is an installation called "Blind Light": a glass-walled box the size of a small room, filled with dense white mist, in which you're invited to get lost for as long as you can bear it.
Once inside, you can see a few inches in front of your face; the rest is a bright, fluffy cloud, disembodied voices, and a vague outline of a human being when somebody stumbles within an arm's reach.
While unveling the work, the sculptor wondered about the effect this will have on the visitors:
"On the one hand, you have lost all sense of location – left/right, front/back. You immediately are lost in space and that makes you anxious," he said. "But at the same time I think there is a sense of euphoria that you are almost free of the body whilst being returned to it in a new way.

It's a climatological experiment but also a sociological one. I don't know how people will react to art of this kind. Light and water are two ingredients, but the third ingredient is the human content of the work and I will be interested to see how that evolves."
Abel and I held hands for much of our trip inside.*
Except for the moment when we stopped, peered at each other through the cloud (you have to move really close together; really really close), and he whispered to me:
"Touch your toes."
One smack, two, three. Not too loud; we don't want to spook any other wanderers. Still, I wonder if I was the first person to have been spanked inside "Blind Light"? It's only been open for a few days, right?
Obviously, we weren't just fooling around in a room of artificial fog. We were experiencing this work of art as a couple: two lovers in a world in which we know nothing but each other, and as the mist threatens to rise between us, we cling to the intimate core of our relationship.
Without the eye of the beholder this piece of art misses its subject, it's not complete – and we completed it with the most sincerity we could offer.
We were also fooling around a little, of course.
—————————-
* He admits to anxiety from the loss of direction; I was at the euphoric end: I spend most of my time lost anyway, and here I had an excuse to be.