It's here at last: the most-anticipated book of the year for spanking enthusiasts! We're very proud to announce the launch of "The Spanking Collection", an anthology of new and exclusive short stories from a hand-picked selection of twenty of our favourite kinky writers.
As importantly as getting to read some truly great writing, by buying your copy you'll be supporting an excellent cause, since all profits from the book will be donated to cancer research charities.
You can buy copies online as follows:
Printed copy, in paperback
Several other ebook formats, such as Epub, PDF, RTF, HTML or plain text, working on many ebook reading devices – Nook, Sony Reader, Kobo or whatever you've got that reads these formats.
(The paperback version will also be available from Amazon later in the year).
We're hugely grateful to the authors who've contributed their pieces free to this charity collection. The stories are listed below, in the order in which they appear in the book:
The Scholarship Girl – Abel Jenkins

Slipping Up – Emma Jane

Keelin and Shayla – Faye Glass

Watching Xanadu – Paul Bailey

Staff Handbook: Chapter 5 – Discipline and Punishments – Henry Higgins

Penitence and Mercy – Graham Grey

The Punishment Room – Martha Linton

Suite Two – Bonnie

Finished – Rebecca Williams

The Library – Casey Morgan

What the Butler Saw – Jessica Davies

Knock-knock-knockin' on Mr Batts' Door – Zille Defeu

That Charming, Disarming Man – William & Catherine

The Royal Wedding – Pandora Blake

Trouble in Telesales – Domino

Heatstroke – Penny Docherty

Arlington Girls' Reformatory – Rayne

Watching – Discerning Dom

Wifehouse – Serenity Everton

Honour Among Fools – Haron
The book also features an introduction by Eliane, as well as a specially-painted front cover by Catherine Thomas showing Abel slippering Emma Jane: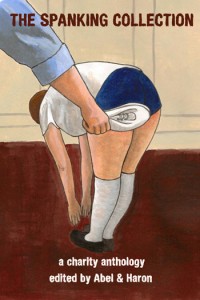 We hope you'll buy the book and love it; we're really proud of it, and hope that it'll raise a good sum for an important charity too.