Abel's been shopping for implements on his US trip. He wouldn't say what he bought, and only teased, and hinted, and promised a tasting menu of everything at once, as soon as I got home.
His grand idea for the event was that I would receive a number of smacks with an implement, and then blog my impressions right away. He prepared the computer and the implements (I still had no idea what they were, and even how many of them he'd bought) and told me to bare my bottom and get over his knee.
The resulting review is below, underneath the picture of the whole lot. (There were six, by the way, and I was sentenced to six strokes with each.) The reviews got shorter as my distress grew, but I decided not to expand them, and post the authentic first impressions just as they'd been typed up.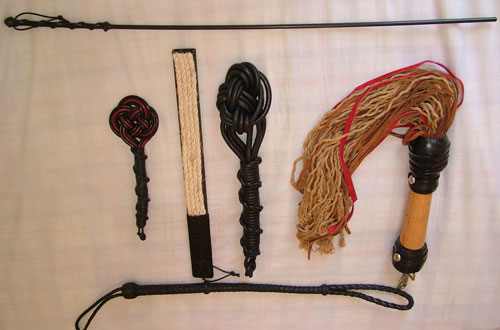 The Josephine (aka the leather mini carpet beater thingy) – was used OTK. Stings like the devil, but used lightly would be quite pleasant and sensual. I wish.
Rope paddle – I was bending over the bed for this. There was a weird scratchy sensation when it touched my bum, and it's a stingy little bastard. Leaves a lasting burn.
The Grand Josephine (aka the big huge carpet beater) – used while I was kneeling on the bed on all fours. Felt like a fist punching your bum. Even a light tapping produces overwhelming pain. Really thuddy. Probably my favourite of the lot, if only Abel could bring himself to use it even lighter.
Plastic cane – used touching toes. I safeworded after 3 strokes. Feels more like a knife, never again.
Loopy whip – also used touching toes. Just really stings, a pretty scary implement.
The rope and suede flogger – used lying flat on the bed. Heavy, soft, delicious, though can be stingy if used harder. More a reward than a punishment implement. And it's so pretty!